Edward Charles Neumayer
October 27, 1924 ~ January 20, 2013
January 31, 2013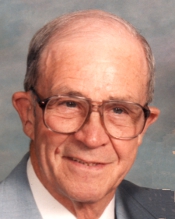 Edward Charles Neumayer was born on October 27, 1924 in Bonners Ferry to Joe and Goldie Neumayer, and at the age of 88 passed away peacefully at home on January 20, 2013 from multiple myeloma.

Growing up in northern Idaho, he met Betty Zimmerman while in high school. After serving in the United State Army Transport on the MS Imperial during WW II, he returned to Bonners Ferry and married his sweetheart on May 27, 1945.

Attending the University of Idaho, he studied electrical engineering. He moved to California and worked for Lockheed on the new generation aircraft, jets. There he collaborated on the development of reverse thrusters used today on virtually all American made jet aircraft.

In 1959, he moved to Richland to raise a family and work on the Hanford Reservation. He worked on the electrical systems development for the control room of N Reactor and was instrumental in designing the Ball Hopper system for emergency shutdown of the reactor. Receiving numerous awards and recognitions, he worked until the final shutdown of N Reactor and retired in 1987.

Ed served on the West Richland City Council and as Mayor of West Richland for several years in the 1960s.

He endlessly served the Lord at the First Baptist Church of Richland as Sunday School Superintendent, Deacon and Sunday school teacher. After retirement, he and Betty volunteered as missionaries in many locations from the Tri-Cities to Australia, including three years at Master's College in California.

Later he designed the electrical system for Richland's Liberty Christian School and donated many months on the remodel and construction of school.

Following Betty's stroke in 1999, Ed was dedicated to her care. In spite of limitations, together they continued to serve the church. Eventually they moved into Eagle Assisted Living, where they continued to love and care for their new dear friends. Even while at Eagle, he continued to work. He was the "fix it" man, installing shelving and counters, planting trees and flowers and caring for the facilities. This became their new mission field.

In 2006, after 61 years of marriage, Ed lost his beloved Betty after she suffered another stroke. After moving closer to family, he continued to serve Eagle Assisted Living almost daily. Tending to the flowers and garden and doing whatever odd jobs he could.

In September 2012, he moved back to Eagle where he remained until his passing.

Ed will be remembered as a hard and talented worker, lover of his family, and servant of the Lord.

He is survived by his children: daughter Cindy Morgan and husband Terry, daughter Nancy Cox and husband Dennis, son David Neumayer and wife Karen; grandchildren Kraig Kammenzind, Janelle Brownell, Steve Johnson, Kelly Daly, Daniel Cox, and Nicholas Neumayer and 11 great grandchildren. Ed is also survived by sister Lorena Shinn and husband Marion of Lewiston, brother George Neumayer and wife Lee of Boise, and sister Phyllis Wester of Spokane. He was preceded in death by his parents, brother Lawrence Neumayer and sister Louella Barlow.

A celebration of Ed's life were be held at First Baptist Church of Richland. Memorials may be given in his memory to Liberty Christian School in Richland.