Florence Virginia Pintok
November 5, 1926 ~ January 16, 2013
January 20, 2013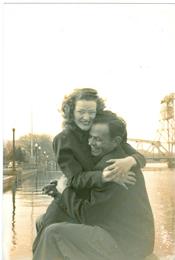 Vigil/rosary services will be held for Florence Virginia "Ginger" Pintok, 86, of Troy, Montana, at 10:30 a.m. Tuesday January 22, at St. Ann's Catholic Church in Bonners Ferry.

A Mass of Christian Burial will follow at 11 a.m.

Ginger died on January 16, 2013, in Selah, Washington, with her children by her side. She will be laid to rest alongside her husband, Alfred, at Grandview Cemetery in Bonner's Ferry. A life celebration luncheon will follow burial at St. Ann's Catholic Church.

Ginger, one of sixteen, was born in Holdingford, Minnesota, on November 5, 1926, to Frances Herman Langner and John Casimier Langner. This is where she grew up, attended school, enjoyed cheerleading with her best friend Leona Kollodge and met her husband of 43 years.

On August 1, 1950, in Holdingford, she was married to Alfred F. Pintok, the love of her life. The two of them then moved to the Portland, Oregon, area where they raised a family of seven.

Ginger was a kind and humble person who loved children. She devoted her life to being a loving wife, mother and grandmother, and was truly the selfless servant who lived to care for her family and loved ones.

Prior to marriage, Ginger worked in St. Paul, Minnesota, in Los Angeles, California, at the Bureau of Internal Revenue and at the Federal Building in Portland, Oregon. Throughout her married life, she managed two full time positions as a wife and mother and also as a logging partner beside her husband in the woods.

She was a Godly woman of small stature who housed a big spirit.

Preceding Ginger in death were her husband Alfred Frank Pintok Sr. on February 11, 1994, son Morgan John Pintok on November 17, 2011, and grandson Dustin John Pintok on July 13, 2001. Also preceding her in death were sisters: Clara, Marie, Emily, Peggy, and brothers: Clemence, Stanely, Germain, Elmer and Theofial.

Surviving her are her son Alfred Frank Pintok Jr., grandchildren Nicole and Gabriel; daughter Jennifer A. Joy and husband Dr. Mark Joy, daughter Mary M. Anderson and husband Glenn Anderson, grandchild Truman; daughter Ramona l. Pintok and Dan Oberst; daughter-in-law Laurie Pintok, grandchild Danielle', and great grandchild Dustin; daughter Ruth E. Jaffe and husband Jonathan Jaffe, grandchild Adore'; and son Jacob R. Pintok and wife Lisa Pintok, and grandchildren Ashton, Zachary and Andrew. She is also survived by her sisters Veronica, Caroline Dorothy and Genevieve and brother Bernard.

Family and friends are invited to sign Florence's book at www.bonnersferryfuneralhome.com. Arrangements are entrusted to the care of Bonners Ferry Funeral Home.