Don James
May 29, 1935 ~ March 30, 2018
April 2, 2018
Don James, 82, passed away on Good Friday, March 30, 2018 after a short fight against cancer; and just like that, the book of the life of Don and his wife Judy ended. But written on those pages is an amazing story that lives on through the lives of his seven children, who learned firsthand from a man who loved life, cared for his friends and neighbors, worked hard, and laughed harder.

The early chapters of Don's life set him on a path of adventures and exploration.


Born May 29, 1935 in Marion, Indiana to Don and Alice James, Don grew up in the exciting tumultuous times of Sputnik and the Mercury space program. As a teenager, he and his friends would make rockets out of iron pipe, carefully mixing liquid rocket fuel on the stove in the basement. Sometimes those rockets blew up on the pad, but it was only after finding shrapnel embedded in the nearby trees that the group decided that, just like the rocket scientists they emulated, perhaps they should take cover during launches.

In high school, Don excelled at athletics and academics. He was a star football and basketball player and he earned a scholarship to Ball State University for basketball, where he attended for one year. After that year, though, he moved on to the Rochester (New York) Institute of Technology and earned his degree in electrical engineering. It was truly his calling.

In 1957, Don married Judy and the two combined forces to write chapter after chapter of how to live life without fear or regret. From moving across the country to take a job with Ball Brothers "Bomb and Rocket Works" in California, to trekking to Colorado, Minnesota, Michigan and then back to Colorado, it was all about just picking a direction and going. The night before moving from New York to California, Don rebuilt the driveshaft of the car he and Judy would take. Of course, the car made the trip without a hitch. In 1975, fed up with the life in Detroit, the couple packed up six kids and two dogs, drove out to the interstate and flipped a coin – heads to Maine, tails to Colorado. It was tails, and the Estes Park, Colorado chapter began.

In Colorado, Dad commuted to work every day, 36 miles up and down the canyon from Estes Park to Longmont (and later Frederick, Colorado). He got to know the state troopers on that stretch well, even getting an autographed poster from one of them. His love for driving and cars made that commute bearable. He ran his own engineering company for much of the time, taking jobs in California, Boulder, Colorado, and other places. He was the one people called to solve their engineering problems.

He was also the one that his kids called to help solve their problems. Whether it was trying to figure out why a ceiling fan slowed down when you dimmed the lights, or working to rewire a burnt out wiring harness in a 1979 Subaru wagon, Dad knew the answers.

Dad used his degree and his brilliant mind, to help solve many problems. He holds half a dozen patents. He helped invent electronic devices that are commonly used today, from muscle STEM and TENS units to the ankle monitoring systems used to keep track of people on home detention, his fingerprints are everywhere. His philosophy was "make it work" and that's what he did. He made do with what he had to solve the problems he faced and he taught that work ethic to all of us. When he needed to test the range of signal on his ankle monitoring system, he strapped prototypes to his kids and sent us off to play in the backyard of the house in Estes Park. He knew that duct tape fixes anything. He also believed in being accountable for what you did.

In 1967, an ad campaign ran in newspapers across the country telling people to take their car keys with them. "Don't help a good boy go bad," the ad preached. Dad scoffed because he knew the only person responsible for a "good boy" going bad was that boy himself. Dad did right because that was the right thing to do. He knew you didn't steal a car because the keys were inside. You don't take things that don't belong to you. You work hard, and just to make sure, he always said, "give people a little more than they expect, every time."

Dad wasn't what you'd expect all the time. As an engineer, he had a very logical side to him, but he also loved music and had a sense of humor all his own. Many nights, he would sit by the stereo with his headphones plugged in listening to Stan Kenton, or Pink Floyd, or Glen Miller, the Alan Parsons Project or maybe even the Dr. Demento show on the radio. Sometimes he'd put in recordings of old radio shows like The Shadow (Who knows what lurks in the minds of men?…. "The Shadow Do." He'd say). Years later, when his 40-year-old headphones finally wore out, Dad looked up the company and wrote it a letter praising the high quality sound he got from their product. Two weeks later, he received a package from that company – a brand-new pair of 40-year-old headphones someone found in the warehouse.

(This account continues below this photograph)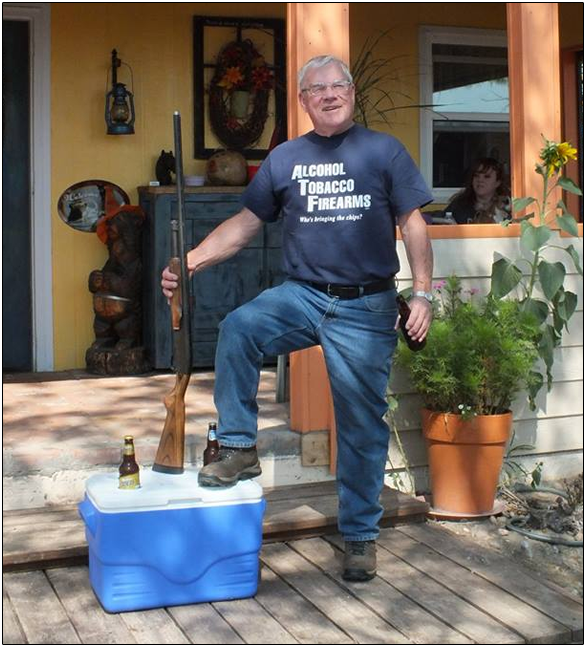 During a week of rainy weather in Estes Park, Dad announced to the family that we were going to "go find the sun" and loaded everyone up into the red and white VW microbus we had at the time and off we went. We may not have actually found the sun that day, but we drove all over looking for it. There wasn't a mining road Dad wouldn't take or an open gate he wouldn't go through in his quest for a great picnic spot or hiking trail. He loved finding new places like Gold Hill near Boulder, where the family sat on a blanket in the woods enjoying a picnic lunch and watching the clouds roll over. On these quests, the perfect spot was always "just over the next sand dune." Even when the dog got skunked. Twice. Or the rain clouds rolled in. Or the gate got locked behind us, cutting off the way out.

Dad was a pilot ("a good one, too"), and he flew his family across the country. There were times he'd sit in his office or at the kitchen table with an aircraft radio listening to the pilots talk to the control tower. His favorite book, Ernest K. Gann's Fate is the Hunter, tells the story of the burgeoning commercial airline industry and all of its dangers and comedies of errors. The underlying theme of that book, though, guided Dad through life – there is no controlling when it is your time, so make the most of each day. Be a lunar photographer. Take time to search for things that make you go "EEEEYOD!" Fix what needs to be fixed. Say what needs to be said. Above all, help those who need help.

After all seven of their kids grew up, Dad and Mom moved to Bonners Ferry, Idaho to write the next chapter. Dad brought his big-block Chevrolet Chevelle and joined the Rod Benders Car Club. He helped organize the Borders 3 Jamboree car show in Bonners Ferry, and he loved cruising all over creation in that bright red, powerful muscle machine. He smiled every time he "got on it" and the cowl induction hood opened up and the engine roared. He knew that if you didn't drive it, what was the fun of having it? During the summers, he'd drive the Chevelle down to the tennis courts and play his favorite game. He could watch, play, or talk about tennis anytime, anywhere. He watched NASCAR and shot hoops with his grandchildren.

Idaho gave him his adventure. Hikes in the woods with his Woolies (malamutes Kayla and Kiska), his grandkids, his friends and family. Sometimes the dogs brought back random elk or deer legs to gnaw on. Sometimes bears seemed to stalk the entire group – a moving buffet protected only by a couple barking guards. But again, not a logging road was safe and it wasn't long before Dad knew the best places to park and hike into the woods.

The final chapter in Dad's life was sudden and unexpected. Judy died in January. Dad died just a few weeks later. He told one of his children a couple of weeks before he died that he had other plans, but that wasn't on the table now. He also said he wasn't afraid.

Of course he wasn't afraid. His next adventure put him back together with his beloved wife in a place where they could hike, play tennis, and explore again all without pain or worry. He probably met up with Pierre, his son-in-law, for a rousing game of Euchre against Saint Peter and Saint Paul. I bet it's still possible to live in a tree or be "green and leafy" in that game, even in Heaven.

His legacy lives on as all of his children learned to give a bit more than what was expected, to fix what's broken and when you come to a fork in the road, take it. He and Mom certainly raised us right. Dad, you've passed the baton to seven children to live your legacy and write their own books. While we can't call you with questions about wiring or cars, we can always reach out and remember your smile, your generosity and your love.

Life is what happens
When you're making other plans.
Fate is the hunter.

Don is survived by his sister Mary, his children Chris (and Jennifer) James, Nancy (and Rob) Christensen, Robert (and Apryl) James, Eric James, Joann (and Danny) Davis, David (and Raelene) James, and Susan Perney, along with grandchildren Jessica James, Mica and Eliza James, Zach, Rebekah, Katie and Joe James, and Alec Perney.

A celebration of life memorial get-together will be held at 5:00 p.m. Wednesday, April 4 at the Chic 'n Chop in Bonners Ferry, and another memorial will be held in Estes Park, Colorado at a later date.