New neighbor looking for work, friends
November 30, 2012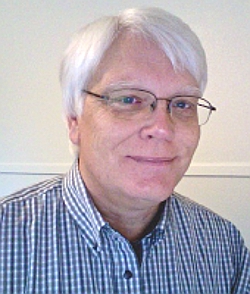 Todd Liljedahl and his wife, Rae Ann, spent the first 37 years of their life together in blustery Minnesota, and moved to Bonners Ferry September 1, liking the idea of a milder climate where they could still enjoy all four seasons as well as beautiful scenery and friendly neighbors.

Even before they moved here, while on a visit in August, Rae Ann found work at the Community Restorium. The couple arrived with their U-Haul on a Saturday and Rae Ann went to work Tuesday morning doing a job she's come to love.

For either of them, it's not so much the pay, but the chance to meet people and contribute.

Todd is still looking, but he's a little picky.

"I enjoy dealing with people from all walks of life and would like to be part of a business that values their customers above all else," he said. "At this time in my life, I believe that money is not as important as happiness."

For him, happiness means being in a place where he can meet and chat with folks and watch them go out with a smile on their face, knowing he not only helped them, but that next time they meet, it will be with a smile and a friendly wave.

His professional background lends credence to his strong belief that customers, and neighbors, always come first. Rising through the ranks from a clerk in a family-owned mercantile in Willow River, Minnesota, in 1975 to a self-employed business consultant and outside sales representative for a number of Minnesota businesses for several years before moving to Bonners Ferry, he gained a deep appreciation that cultivating customers as neighbors and friends is the best way to go.

And it didn't stop there. Serving the community was also of prime importance. For seven years, he drove a school bus in Willow River. He was also a volunteer firefighter and emergency management director there and later a volunteer firefighter for the Minnesota Department of Natural Resources.

He served as a city councilman and mayor in his hometown of Rutledge, Minnesota, was a 15-year volunteer with the Muscular Dystrophy Association and more.

Instead of resting on his laurels, he said, he still wants to contribute and be a contributing member of his new community. You can read his resume by clicking here, and you can reach him by calling (218) 590-9783 or by sending an email to todd.liljedahl@mail.com.

He'll appreciate it, and your customers will, too.

Questions or comments about this article? Click here to e-mail!