Klaus, Riebli exchange vows
December 3, 2012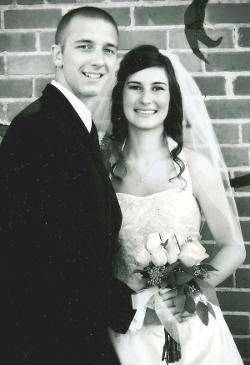 Luke and Rachel Riebli

Rachel Klaus and Luke Riebli, both of Bonners Ferry, were married October 6 at Mountain Springs Church. After a honeymoon in Park City, Utah, the couple returned to make their home in Bonners Ferry.

Rachel is the daughter of Michael and Tammy Klaus, Luke is the son of Michael and Kathy Riebli, all of Bonners Ferry.

Rachel was given away in marriage by her father. Her maid of honor was her sister, Ashley Klaus, and bridesmaids were Abigail Lustig and Brittany Whallon. Maddy served as flower girl.

Luke's brother, Christopher, was best man, Jonathan Riebli and Aaron Klaus were the groomsmen and Isaac served as ring bearer. Pastor Garrett Graupner conducted the wedding. Afterwards a reception in their honor was held at the fairgrounds.

Rachel currently attends Lewis-Clark State College and works at the TLC Children's Center as a teacher. Luke, a graduate of Lewis-Clark State College, currently works for Your Way Construction until mid-January, when he leaves for basic training in the U.S. Air Force.

Questions or comments about this article? Click here to e-mail!