Poetry Alive! visits county schools
January 12, 2013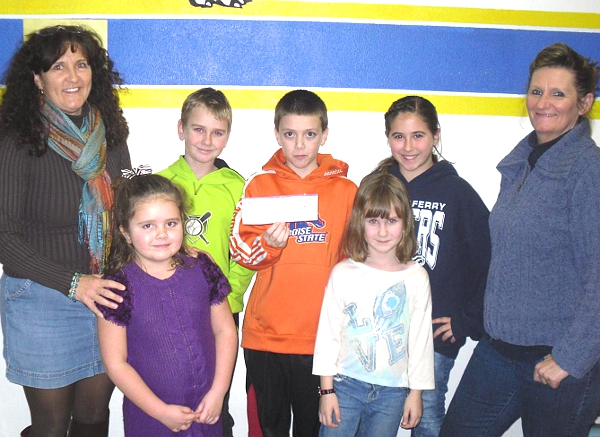 Debbie Pauls, Idaho Reads! VISTA, Jasmine Hittle, Ben Tompkins, Dylan Hittle, Emma Tompkins, Kelsey English, and Charlene Petty of the Eagles.
By Debbie Pauls

Poetry Alive! gave performances for the Bonners Ferry High School, Boundary County Middle School, and Valley View Elementary January 9.

Idaho Reads! VISTA, Debbie Pauls at Valley View Elementary partnered with the schools, the Eagles Club, the Kootenai Valley Motel, and Poetry Alive to afford this opportunity for our schools.

Founded in 1984, Poetry Alive! conducted its first show in a music hall called McDibb's in Black Mountain, North Carolina. Today, Poetry Alive! brings the Poetry Alive! Institute for Educators into school districts across the nation.

Returning to the tradition of long ago, the Poetry Alive! actors have memorized hundreds of poems, from the classics to the popular to the contemporary. The company sends out actors in pairs to schools, libraries, festivals and anywhere there is an audience for "poetry with a twist."

For more information on Poetry Alive!, you can visit their website at www.poetryalive.com.

Poetry Alive gave energetic, inspirational, and interactive performances. Valley View thanks the Eagles' Club for fund raising $250 for the Valley View Literacy Program.

Support like this allows us to be able to invite groups to help support our efforts to improve reading and writing. We would not be able to do this without the wonderful backing of our community.

Also a big thank you goes out to the Kootenai Valley Motel for donating lodging for our guests.

Questions or comments about this article? Click here to e-mail!