Valentine's basket raffle starts tomorrow
January 31, 2013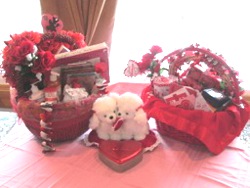 The Friends of the Restorium will be selling raffle tickets for two Valentine's Day baskets designed and donated by Donna Jo Dirks, and they'll be signing up new members as well.

Members will be at Akin's Harvest Foods, 7168 First Street, Bonners Ferry, from 10 a.m. to 6 p.m. this Friday and Saturday and again the following weekend, February 8-9.

Raffle tickets for the baskets, one romantic and the other fun-filled, are $1 each or six for $5.

Friends of the Restorium, founded in 2004, strive to benefit the residents of the Boundary County Community Restorium by providing resources that will enhance the quality of their lives. You can find out more by visiting their website by clicking here.
Questions or comments about this letter? Click here to e-mail!