Badger harriers sixth at state
October 30, 2012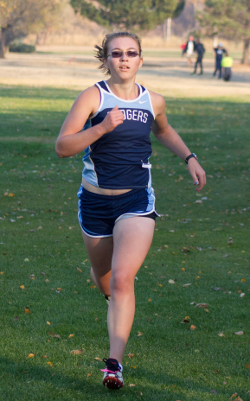 Aimee Sayers, shown competing at the district meet.

Karen Perkins photo

The Badger boys cross country team traveled to Lewiston's Hells Gate State Park Saturday to compete in the Idaho 3A State Cross Country Championships, and came away with a respectable sixth place finish.

The only member of the Badger girl's team, senior Aimee Sayers, came in 20th in a field of 67 runners, finishing with a time of 21:13.7.

On the boys side, 73 runners from the state's 3A schools ran, led by senior Caleb Moosman, Teton, who finished the 5,000 meter course (3.106 miles) in 16:18.

Teton won first place in the meet with 68 points, Sugar-Salem just two points behind at 70 for second place.

The Badgers, led by junior Luke Reoch in tenth place in a field of 73, coming across the line with a time of 17:08.1, finished the meet with 125 points, coming in just behind Timberlake's 120 point fourth place finish.

Collin Cossairt, also a junior, was next across the line for the Badgers, finishing in 21st place at 17:29.3. Sophomore Jacob Perkins came in 30th at 17:47.1; junior Brad Thompson finished the race at 18.19.9 for a 44th place finish; senior Tyson Boorman came in 46th at 18:22.5; senior Alec Perkins came in 58th at 19:07.6 and senior Josh Dufrene 63rd at 19:36.8.

Questions or comments about this article? Click here to e-mail!