Patrice Webb to perform at the Pearl
February 24, 2013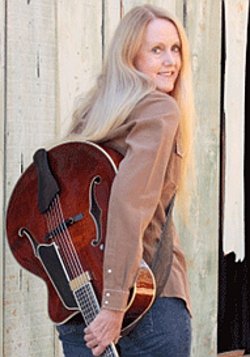 The Pearl Theater is excited to present local singer, guitarist, and award winning songwriter Patrice Webb in concert.

Patrice's songs tell of the lives of those whose stories make up the vibrant tapestry known as "Americana." These are songs that are sung in a voice full of poignancy and humor and are described as "snapshots in time told on a bed of folk, country, swing, and the blues."

Although Patrice is often compared to '60s iconic folk singers such as Joan Baez and Judy Collins, she also takes inspiration from the music of Bob Wills, Hank Williams, Sister Rosetta Tharp and Django Reinhardt.

Patrice will perform at 7 p.m. Saturday, March 23, at the Pearl Theater, 7160 Ash Street, Bonners Ferry. Doors, and the Pearl Cafe, open at 6 p.m.Tickets are $10 for the general public, $9 for Pearl Theater members. They go on sale Monday, March 4, at Mountain Mike's and Bonners Books.

For more information, call (208) 610-2846, email info@thepearltheater.org, or visit www.thepearltheater.org.
Questions or comments about this letter? Click here to e-mail!