Print version
Fire at the Chinese laundry
February 17, 2013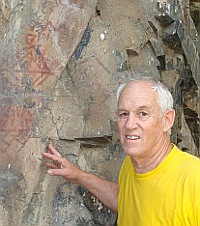 Jack Flinn
Well, looking back into my memory I recall a fire. It was in the early 1950s, not sure of the exact year.

I was a young boy on my bike, and one night I heard the sirens, so I followed the sound, which took me down the street to the fairgrounds.

As I went under the railroad trestle on the way, in front of me was a huge fire ... the laundry was ablaze, and I believe it was a Chinese laundry.

If a person looks straight ahead when passing under said trestle, you will see a vacant lot where that laundry once sat ... looking back.
Remember this? Add your comment!
---
I was there that night of the fire, it burned big and fast due to all the cleaning fluids and the building being so old. That laundry was the Crystal Laundry, owned by the Tadaka family. Myself and Jimmy Whitcomb were there that night, Jim ran over a fire hose, Stub Lande gave him a ticket and Jim tore it up. I have to add a note here. The Tadaka family was a hard working, close family of Japanese descent; good citizens, good honest people.

Don Hoagland
Bonners Ferry
---
The people who owned it were Japanese and were really nice.

Del Irons
---