Doctors save cancer patients long trip
February 6, 2013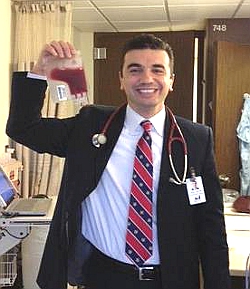 Dr. Kaya

One of the most promising new treatments for many types of cancer is the stem cell transplant, and a Spokane doctor appeared in an interview this morning on KHQ Television to talk about the 100th such transplant performed in the region. A local man was number 54 on that list.

Though the interview lasted less than two minutes, Oncologist Dr. Hakan Kaya's appearance this morning brings a ray of hope to cancer patients from throughout the region, not only for a better chance at defeating some of the deadliest forms of the disease, but for having the comfort of family and friends to ease the ordeal.

Dr. Kaya explained that before 2005, patients had to travel to Seattle for the procedure, and stay for the two to three months the procedure lasted. Now, physicians at Cancer Care Northwest, S601 Sherman Street, Spokane, can perform the complex procedure right in hospitals in Spokane.

In the past, physicians performed bone marrow transplants in patients with cancers of the blood; leukemia, lymphoma and myeloma, most of which have their onset in the bones, where new blood cells develop.

In a stem cell transplant, bone marrow is still extracted, but now stem cells are extracted, from the patient's own body, cultured and reintroduced after radiation and chemotherapy regimens are finished.

Stem cells are very unique ... they haven't yet decided what they want to be when they grow up, and can develop into any one of the 200 or so different types of specialized cells that comprise the human body, from skin cells to bone cells to the cells that comprise our brains, livers, kidneys, hearts and other organs and glands.

Once cancerous tissue, which are basically cells that ignore DNA encoded orders to die and grow and divide uncontrollably, is killed, the stem cells are reintroduced back into the patient's bone marrow, where they can become new blood cells free of the faulty DNA coding that resulted in the formation of cancer.

Dean Satchwell, Bonners Ferry, underwent the procedure April 13, 2011, at Deaconess Medical Center, Spokane, near enough to have visitors stop in during his lengthy stay. It made a big difference, he said.

"Dr. Kaya is hoping to expand their program into a Blood Cancer Center, in cooperation with Sacred Heart Hospital, in the future," he said. "This will allow the new trials and drug therapies to come to Spokane. Now one has to travel a long distance for trials. This will also allow doctors to study blood cancers from different cancer treatment centers in the area."

To see Dr. Kaya's interview, click here.
Questions or comments about this letter? Click here to e-mail!