FIRST Team 2130 robot nearing completion
February 6, 2013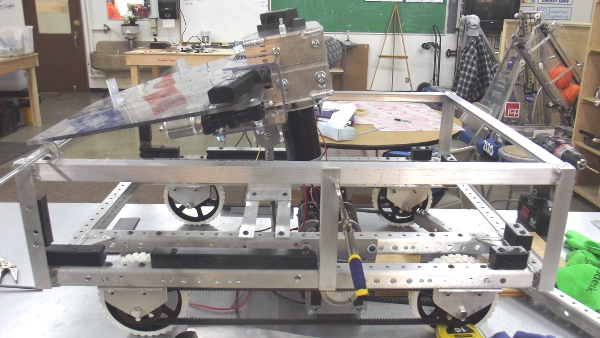 The FIRST Team 2130 Alpha+ robot is nearing completion.
Story by Sally Balcaen
Photos by Sarah Schuman

FIRST Team 2130 has finally finished the design using Autodesk Inventor and is going full speed ahead with building the robot.

The team decided that for strategy, it would be most effective to build a robot that could shoot Frisbees from a mid-range distance into goals about 88 inches off the floor. The robot will be primarily a Frisbee-shooting robot and will climb 30 inches from the floor in the last 30 seconds of the game.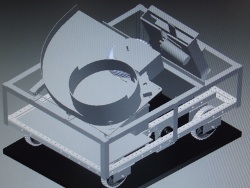 The robot's finished design.

The need to perform all these tasks was incorporated into the design. The designing of the robot is one of the most difficult and time-consuming parts of robotics.

The robot needs to be completed February 19, so time is running out.

The frame of the robot is already complete. The bumpers are being constructed and the control board is being arranged.

The shooter mechanism, which will shoot the Frisbees into the goal, is seen mounted at the top of the robot.

The design idea for picking up the Frisbees off the floor is almost complete and they will begin building once it is done.

In other words, all the main parts of the robot have been designed and built.

Now the job left is to bring together all the parts onto the main robot frame.

Different names for the robot have been thought of and have been written up on the board. Once the robot is completed, the team will gather together to vote on a name for the robot. So far, the list of names includes Malice, Nefarious, Benevolence, Bane, and Lombard.

In less than two weeks, the name will be decided and the new robot will join the other six robots lined along the wall. Since the building team will be quickly finishing, anyone interested in seeing the robot can come to the team's headquarters at the back of the middle school.

You can also visit us online at www.bfhsrobotics.com or at our Facebook page FIRST Team 2130.
Questions or comments about this letter? Click here to e-mail!