Middle school students staying busy
February 7, 2013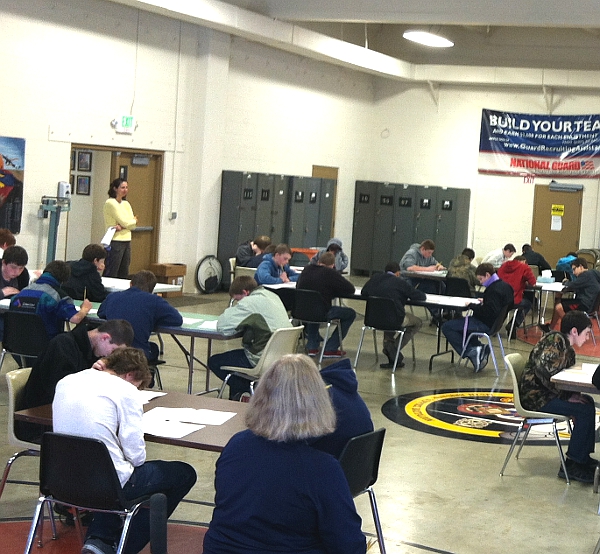 Boundary County Middle School eighth graders taking the ACT Explore test January 30 at the National Guard Armory.
By Principal Dick Behrens
Boundary Count Middle School

On Wednesday, January 30, close to a hundred eighth graders took the ACT Explore Test during the school day. The test included four different content areas: mathematics, science, language arts, and reading.

This test is one of the requirements of "GEAR UP," which stands for Gaining Early Awareness and Readiness for Undergraduate Programs. ACT Explore is designed to help eighth and ninth graders explore a broad range of options for their future. It prepares students not only for their high school coursework but for their post–high school choices as well.

Before the test date, the students had to complete an Interest Inventory on their test form. With this inventory and their test results, ACT will be able to pinpoint a few career areas in which the individual student may truly strive.

We are very thankful for the National Guard folks who donated their space for a testing venue and also to the school district who provided snacks during the test. The test was provided with no cost incurred to the student because of the grant budget.

On Thursday, February 7, forty-five students, along with two staff members and several parents, visited North Idaho College's campus in Coeur d'Alene.

Eleven students were in attendance because of the "Math Counts" competition, which is held annually. We are still awaiting the test results, which should be in any time.

Other students were able to participate in a full day's worth of activities presented by the recruiting officer at NIC.

A campus tour, scavenger hunt, STEM programming, and lunch at the SUB were the highlights of the day.

Many other activities and events will happen throughout the school year. Be sure to visit the school district's website to find the GEAR UP link to learn more.

We are looking for professionals to come to the Middle School and share a lunch and your work experience with our students in our Career Café program. Please contact BCMS if you are interested in helping out at (208) 267-5852.
Questions or comments about this letter? Click here to e-mail!