Idaho Youth Challenge director named
February 8, 2013
By Colonel Tim Marsano
Idaho National Guard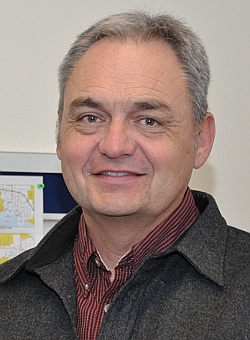 The Idaho Adjutant General, Major General Gary Sayler, announced today that the first director of the new Idaho Youth Challenge Academy is Mr. Derek Newland.

This program, which will build its cadet body with Idaho youths aged 16 to 18 years old, will give high school dropouts a second chance to earn their high school diplomas or GEDs.

Newland comes to the position with a strong military background and vast experience working with youths.

Prior to accepting this role, he flew and instructed new military pilots in how to fly and perform the mission of the Idaho Air National Guard, in several different aircraft. He later assumed senior management roles as one of the 124th Fighter Wing's commanders and recently retired from his military career as the comptroller/chief financial officer for the Idaho Air National Guard.

He was educated through the Boise and Meridian school districts and earned a bachelor's degree in business management from Boise State University in 1981. In his free time, he spent over 18 years coaching and mentoring young boys and girls thru the Boise Noon Optimist football program.

Newland and his wife, Marcie, are native Idahoans who currently reside in Boise, where they raised their three sons. The couple will soon relocate to Clearwater County.

"I am passionate about the Youth Challenge Program coming to our state," said Newland. "It will provide over 200 16- to 18-year-old high school dropouts throughout the state each year with the opportunity to apply and attend an in-residence academy that offers a safe, professional, structured and disciplined environment."

The mission of the Idaho Youth Challenge Program is to intervene in and reclaim the lives of 16- to 18-year-old high school dropouts, producing program graduates with the values, life skills, education, and self-discipline necessary to succeed as productive citizens. By the end of the 5½ month in-residence program, the cadets will have earned credits preparing them to reintegrate back into public schools or attain either their high school diploma or their GED.

Along with education, they will learn to respect themselves and others, work as a team, exercise daily, and learn accountability. The program is in keeping with U.S. Congress directives to the Department of Defense to manage it.

"I'm proud of General Sayler and his team for consistently advocating so strongly and effectively for the Youth Challenge Program," Governor C.L. "Butch" Otter said. "It has my admiration and my support for its focus on helping to turn around the lives of at-risk teens. They need the kind of guidance, discipline and direction that the Youth Challenge Program offers, and it's great to see the program starting to move from the drawing board to reality."

The program is currently located in 27 states, overseen by each state's National Guard's senior officer. Federal-to-state spending for the program is at a ratio of 3-1. The school is considered an alternative high school, and Orofino School District #171 donated the former Pierce Elementary School - built in 1979 - for this project in 2011.

When it's up and running, the program will provide more than 50 new jobs centered in Pierce.

"It is an outstanding program and I'm excited to get it started," Newland said. "Marcie and I look forward to being part of the Pierce community."

Among the first people to be hired for the program will be a lead recruiter, whose role it will be to seek eligible student candidates from around the state. This lead recruiter will soon be contacting school district superintendents and school counselors.

More information can be found online at http://youthchallengeidaho.org.

Staff members will be hired through the State of Idaho Military Division's Human Resource Office. Job announcements and application forms will be posted online at http://inghro.idaho.gov/Jobs.htm.
Questions or comments about this letter? Click here to e-mail!