National Honor Society inducts 12
February 14, 2013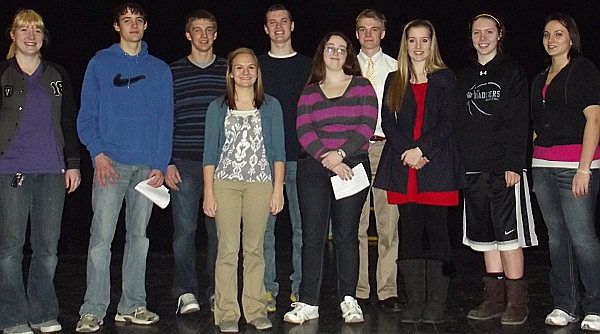 New inductees from left to right are Sarah Schuman, Collin Cossairt, Collin Stone, Hailey Beazer, Cameron Woods, Kimberly Kramer, Michael Warren, Katie Shelton, Savannah Woods, and Sally Balcaen. Not pictured are Mariah Joseph and Katie Colson.
By Sally Balcaen
Photos by Sarah Schuman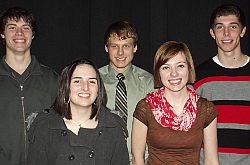 National Honor Society Officers from left to right are Kody Rice, president; Jessica Beazer, treasurer; Jared Lysne, vice president; Mariah Munson, representative; and Evan Moe, secretary.

On Monday, February 11, in the Becker Auditorium, the National Honor Society inducted its 12 new members of the 2012-2013 year. NHS advisor Paul Bonnell gave a speech about the accomplishments of the new inductees.

"In a way, NHS has a lot in common with farming," he said. "The German word for learning is 'to cultivate.' And that is what all NHS inductees have achieved; they are cultivating scholarship, leadership, character, and service and they will continue to develop it, like one cultivates a plant or a tree, for the rest of their lives."

Indeed, being inducted is no small feat; to be inducted and remain in NHS, members must maintain a GPA of 3.25, exhibit exemplary behavior, and perform community service.

Following the speech, the NHS officers gave short speeches on leadership and service while candles were lit for all the members present.

Afterwards, with each person holding a candle, the inductees were asked to step forward, recite the NHS Oath and sign the Chapter's Register.

Including the new inductees, there is now total of 51 students in the Bonners Ferry High School National Honor Society.

New members of NHS this year are:

Sally Balcaen, senior, daughter of Catherine Delsalle and Didier Balcaen.
Hailey Beazer, senior, daughter of Douglas and Marianne Beazer.
Sarah Schuman, senior, daughter of Michelle and Dave Schuman.
Michael Warren, senior, son of David and Adrienne Warren.
Collin Cossairt, junior, son of Stacy Goad and Kevin Cossairt.
Mariah Joseph, junior, daughter of Mike Joseph and Nissa Clark.
Cameroon Woods, junior, son of Michelle and Brian Woods.
Katie Colson, sophomore, daughter of Julie and Lee Colson.
Kimberly Kramer, sophomore, daughter of Rosalind and Clay Kramer.
Natalie Shelton, sophomore, daughter of Paul and Leslie Shelton.
Colin Stone, sophomore, son of Pat and Lynn Stone.
Savannah Woods, sophomore, daughter of Michelle and Brian Woods.

Questions or comments about this letter? Click here to e-mail!