Firefighters hone skills in practice burn
February 14, 2013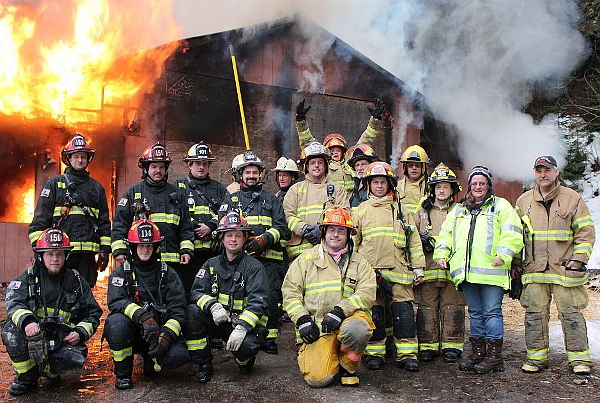 Firefighters from around Boundary County gathered for training February 16 in a controlled burn on Westside Road.
By Bill McCabe
Chief
North Bench Fire Department

North Bench Fire Department hosted a National Fire Protection Association 1403 live fire training, on an acquired structure along the Westside Road in Bonners Ferry on Wednesday, February 16. North Bench Fire Department, South Boundary Fire Protection District, Paradise Valley Fire District, Moyie Springs Fire District and Bonners Ferry Fire District participated in the training.

Instructors included Chief Mike Mathers with Northern Lakes Fire District, myself and Chief Tony Rohrwasser, South Boundary Fire Protection District.

Boundary County has been experiencing fewer and fewer structure fires, and while that is good news for the home owners, it is not such good news for firefighters.

Due to the reduced frequency of structure fires, firefighters do not gain a lot of the valuable experience and skills necessary to effectively fight fire. However, what experience is lost can be gained through proper training.

The gap that has been created between less experience and good firefighter knowledge and skills is filled in with training. Firefighters can gain the beneficial knowledge, experience and skills required to successfully and safely fight fire by conducting live fire training exercises such as the one conducted in January.

We hope that this trend of a reduced number of structure fires continues throughout the county, however, we want to be prepared in the event that such a disaster should occur, and we would also like to be able to handle any other type of hazardous incident as well, and we can better achieved these goals through training.

We are thankful that there have been fewer structure fires in recent years and we hope that, at least in part, it can be attributed to our fire prevention efforts throughout the county. It is our desire to provide the community with the best cut-rate county wide fire protection and hazard mitigation as possible.

A special thanks goes out to KG& T septic for donating the port-a-potties for the event.
Questions or comments about this letter? Click here to e-mail!