Two pass Idaho bar, come home to practice
June 4, 2013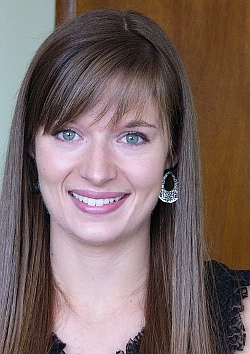 Andrakay Pluid

Two long-time Bonners Ferry residents recently passed the Idaho State Bar exam and, after years of study and hard work, earned the right to practice law. One came home to begin a new career, the other never left.

Andrakay Pluid, now attorney and assistant city manager for Bonners Ferry, grew up knowing the path she is now set on.

"I was always arguing," she said. "Becoming an attorney has been my career goal for as long as I can remember ... except once when I was five, and wanted to be a baker!"

Pluid, the daughter of Rex and Shelly Hoisington, Bonners Ferry, was home schooled until she entered Bonners Ferry High School her sophomore year. She graduated in 2007 and went on to the University of Idaho, where she earned a political science degree, and then to the U of I College of Law, where she earned her Juris Doctorate in December, 2012.

Along the way, she married Mark Pluid, who, along with his dad, Rob, owns Pluid Logging. She always knew she'd be coming back to Bonners Ferry, though for a considerable time she wasn't sure what she'd be doing.

"Most law school graduates want to go to a big firm and make a ton of money," she said. "That wasn't that important to me. I wanted to practice in Bonners Ferry, not in a cubicle in Boise. This is where I plan to raise my family. I wasn't sure if I could get a job, but it worked out."

So well, in fact, she started out as a legal intern for the City of Bonners Ferry in December, well before sitting for the bar exam in February. When she was notified in April that she'd passed, she replaced Coeur d'Alene attorney Will Harrington as city attorney, and the fit, she said, is perfect.

"I love law," she said. "It fascinates me. It's different every day, and its fun to see what you will face."

Her main interest, she said, is in prosecution, and her position with the city gives her the opportunity to practice that aspect of law, but it also gives her the opportunity to practice a diverse range; from civic and municipal to land use law. While nothing precludes her from going into private practice, she said, her focus right now is on serving the city.

"It's a blessing," she said. "I get to practice prosecution, but you have to have a little of everything to work here."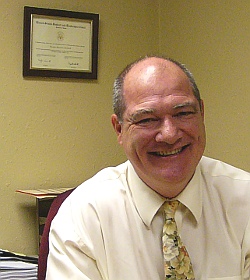 Tom Bushnell

It took Tom Bushnell considerably longer to decide what he wanted to be when he grew up, and he arrived by a much more circuitous path.

In high school, he worked in a warehouse, and for more than 30 years he made a living for his family by hard work as a logger, landscaping contractor and more. When his back gave out on him ... twice ... he could have given up, but he didn't.

Instead, he became a lawyer.

And he kept right on working through law school, a four-year course he took on his computer, in his own home.

"It's not for everyone," he said, "but it's considerably more affordable and it let me stay home, keep working and take care of my family."

No matter where he was or what he was doing, he said, his greatest satisfaction always came by standing up for and helping others.

He keeps a picture in his office at Tim Wilson's law firm on Main Street, Bonners Ferry, of him making a comical strangled face as his wife of nearly 32 years, Sherry, holds a firm grip on his tie, an accouterment he'd seldom worn until his shift from blue collar to white.

"That was my motivation," he said.

Together, they have eight surviving children, they suffered the loss of one who died. They have a child who suffered a stroke at birth, and raised three adopted special needs children. A picture of all of them, now including two grand children, stands right next to the one of Tom and Sherry making funny.

Not only did they raise their family; they home schooled each child. So it came as little surprise that Sherry turned to "home schooling" via computer to earn her own credentials as a certified midwife, now delivering babies from Bonners Ferry to Libby, or that Tom turned to home schooling to pursue a Juris Doctorate.

For a time, Tom and Sherry even home schooled together.

About a year after he began his course of study, Tom found a mentor, a local man who'd grown up here steeped in law but who became a Top Gun fighter pilot, serving a career in the Marine Corps before returning home and following in the footsteps of both his father and grandfather.

Shortly after Tim Wilson hung out his shingle, Tom began working for him as an intern.

It was a perfect fit.

"Tim is a mentor, and wonderful to work with," Tom said.

While the computer at his home gave him access to course materials and lectures from the most brilliant minds in law teaching today, his hard-won degree lacked one thing; certification by the American Bar Association, a lobby so powerful it tells most states, including Idaho, who can be attorneys, which attorneys are qualified to judge, and only ABA certified schools can give access.

Only California and Wisconsin open the doors to non-ABA educated Juris Doctors to sit the exan, so in 2011 Tom traveled to the Golden state, sat the bar and passed.

He returned to Idaho, applied to sit the Idaho bar as an attorney licensed in another state, and was denied.

He appealed to the Idaho Supreme Court, and won a waiver, and sat the test at the same time as Andrakay ... and passed.

When he came home, his name was printed on Tim Wilson's door.

"It was amazing," he said. "While I was going through school, Tim gave me cases. When I took the tests, it seemed that every time I turned the page, it was something Tim had schooled me in."

While Tom has great respect for kids, like Andrakay, who grow up knowing where they plan on going, he thinks there's something cool when old farts, like he and Tim, who retired after a career as a Top Gun Marine fighter pilot, come into a career later in life.

"We have fun," he said, showing off the key fob his kids gave him; "Trust me, I'm a lawyer!"

"Do you know the difference between a catfish and a lawyer?" he asked. "One is a scum-sucking bottom feeder. The other is a fish."

"I'm not a fish!" Wilson said (he wasn't quite ROLF, but appeared close), "But I am absolutely amazed by these two. They are going to be excellent attorneys who will serve their community well."

"I have 30 years' experience not being a lawyer," Tom said.

Questions or comments about this article? Click here to e-mail!