A lot of love going into Abby's fence
August 12, 2013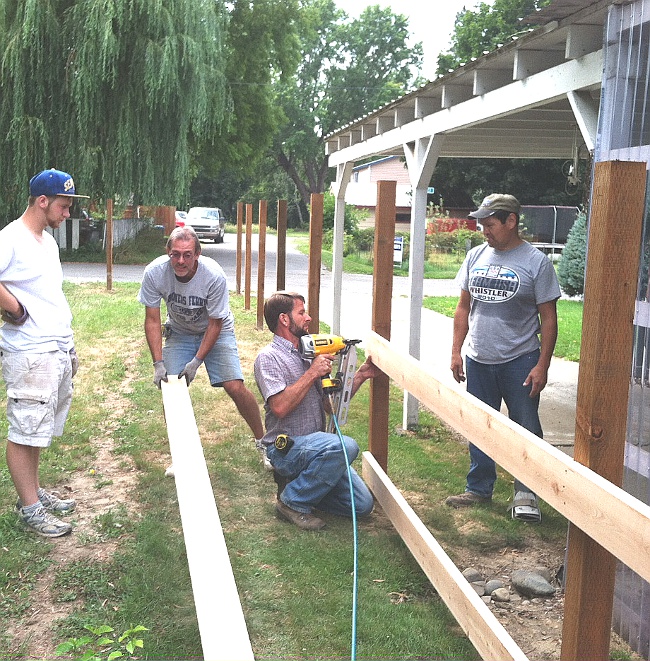 Terry Becker (kneeling with the drill) has not lacked eager support from volunteers as he gives his time to lead the project to build Abby's fence. The rest of these culprits, volunteers all, are only a small sampling of all those who have given time and resources to help provide a child a safe place to play.
On June 15, two tough teams of amazing men and women met on the gridiron at Bonners Ferry High School and waged a hard-fought battle before a generous crowd. No one who played really cares to remember the score, but none has forgotten who won -- seven year old Abby Bliss and her family.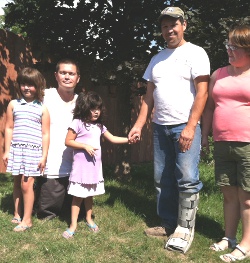 (l-r) Bridget Bliss, James Solum, U.S Customs and Border Patrol, Abby, and Jack and Amy Bliss.

The second annual U.S. Customs vs. U.S. Border Patrol charity flag football game that day, sponsored by the Bonners Ferry Rotary Club, was a pitched battle, with players on both sides giving their all for the cause.

What makes it even more special is that the game was only a prelude still underway, except now many of the players on the field who faced off, as well as local Rotarians and more, are working on the same team.

Abby, who has severe autism, has long been limited in time she could play outside. Living on Highway 95 near Naples, the proximity of the highway and its speeding cars kept Abby inside unless someone in the family, most often her parents, Jack and Amy, were there to keep a close eye to ensure that she stayed safe.

A thing as simple as a fence could give Abby a measure of freedom to explore her yard in safety. That gridiron battle in June raised around $1,200, and the attention of a community that takes pride in taking care of its own.

Builder Terry Becker stepped forward to offer his expertise to ensure the fence was designed and built to meet the family's needs.

Over two days, the post and beam framework was set securely in place.

Welco Mill, Naples, donated the fence boards to create a safe haven for Abby, already stained. By day two of construction, Abby has a front yard she can play safely in. In one more day, to be finished soon, the backyard of the Bliss home will be fenced, and Abby can run and play safely, and her family not be so worried.
Questions or comments about this article? Click here to e-mail!