Distinctive hat a clue in burglary
August 12, 72013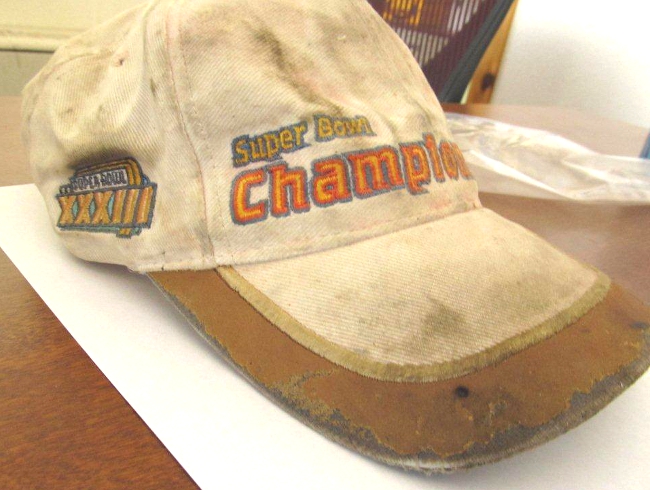 On January 31, 1999, the Denver Broncos defeated the Atlanta Falcons 34-19 to win Superbowl XXXIII. Legendary quarterback John Elway, who threw for 336 yards and ran in a three-yard touchdown, became the oldest player at age 38 to be named a Superbowl MVP. Now a memento from that historic game is a major lead in a local crime.

A distinctive championship baseball cap from that game was found in a home recently burglarized, and the homeowners had never seen it before.

In addition to being distinctive, the cap was also obviously well worn, with plenty of sweat evident on the brim and stains on the bill indicative of the hat's having been donned ond doffed countless times.

While those stains might not produce latent finger prints, the oil and sweat stains will undoubtedly yield useable DNA, and the cap is on its way to the Idaho State Crime lab to extract it, which could provide the clue necessary to lead to the suspect.

Sheriff's investigators are asking, if you own the hat, to save a bit of time and trouble and come forward and be honest. They will do their best to work with you in atoning for the crime.

While the offer is there and honestly made, investigators are also asking anyone who might know the owner of the cap to call (208) 267-3151, extension 206, and give a name.

That's all. Investigators will do the rest.

You don't even have to speak with a deputy if you don't want to ... call after 5 p.m. and leave a message on the answering machine. You don't have to identify yourself or leave a callback number.
Questions or comments about this article? Click here to e-mail!