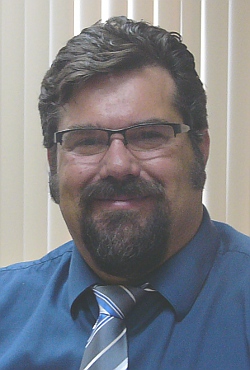 BFHS Principal Tim Gering

By Mike Weland

Trustee

Boundary County School Board

On behalf of the Boundary County School District 101 Board, I am pleased to introduce Tim Gering as principal of Bonners Ferry High School. He's long been a Maniac, but both he and his family are obviously eager to become Badgers!

Tim has been an Idahoan since the fourth grade, graduating from high school in Kooskia in 1987. After spending time with family and pursuing a job opportunity in Dallas, Texas, after graduation, he returned to Idaho after a few years to attend the University of Idaho, earning a Bachelors Degree in 1997 with a major in chemistry and a minor in physics.

He began his teaching career in Craigmont, Idaho, where he taught junior high science, and not long after took up teaching in Orofino, his wife, Kari's, home town, where their three children have grown up.

The board was delighted that when the day came for his interview, they met not one, but five people. Mr. Gering individually introduced each member to Kari, his twin daughters Hannah and Chloe, and son Caleb.

It was clear from the outset that Tim wasn't the only Maniac contemplating a move north!

Mr. Gering became an Orofino Maniac in 1999, when he began coaching Orofino High School wrestling while teaching in Craigmont. He began teaching young Maniacs in 2001, again junior high life and earth sciences and computer applications.

He served as assistant to the principal at Orofino Junior High School in 2005, stepping down as head high school wrestling coach but continuing to serve as an assistant.

After 13 years at Orofino Junior High, he returned to the U of I and earned his Masters Degree in education in July, 2010, and began teaching science at Orofino High, serving as head teacher.

While he's a trained scientist and educator, Mr. Gering is also a huge high school sports fan, and not afraid of long hours or hard work.

In his spare time as a teacher in Orofino, he coached not only wrestling, but junior high football and high school softball. And ran his own construction business.

He admits that leaving Orofino isn't easy, he has many friends there. His wife and children call Orofino home, and leave both friends and family.

"More important than who I am and what I am about is my family," Mr. Gering wrote recently in a letter to BFHS staff.

Even though they had no idea how the interview would go or what the outcome would be, as each board member arrived and were introduced, each board came into the interview impressed with how staunchly Mr. Gering's family supported him.

"I'm not the only Maniac converting to Badger here," he said after being unanimously agreed to by the board.

Hannah and Chloe, Sweet 16, will be juniors at Bonners Ferry High School. Caleb, the baby of the family at 15, will be a sophomore. He might be principal, but Mr. Gering and his wife, who recently celebrated their 19th wedding anniversary, became Badger Boosters even before the board's decision was made official.

The interview went well and Mr. Gering's appointment was all but confirmed, but in the often unfathomable ways of public service, a few details needing a few days' time had to be attended to so as to make it official.

Mr. Gering was at work the next morning, his family out learning their new community and looking for a new home.

"As a new principal," he wrote staff after his role was officially confirmed, "I want to know two things; One, what are you proud of in your classroom? … The second … what is our school proud of? What makes our students proud to be a Badger?"

I'm new on the school board, and don't know much, but I feel fortunate that one of the first decisions I was privileged to make was to welcome Mr. Gering and his family to Boundary County and Bonners Ferry High School.

They may have been Maniacs once, but I have a feeling they'll be Badgers … and good neighbors … for many years to come. I pray my community welcomes them.