Make way — Physicians riding to the fair!
August 16, 2013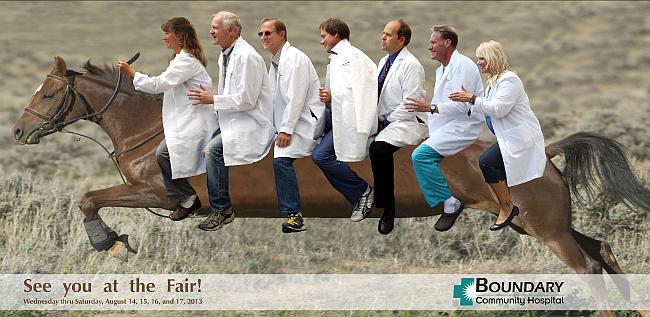 By Marcia Morman

They are on the way! The Boundary County Fair's theme is "It's Magic" and the Medical Staff physicians of Boundary Community Hospital are galloping through the sagebrush on their racing horse to join in the fun at the Fair.

Gripping the reins, hospital-based physician, Ligeia Reinhardt, MD, controls the brown steed, followed by Chuck Newhouse MD holding on for dear life. Michael Snyder, MD riding free-hand is taking his chances for a tumble if the horse swerves rapidly. Greg Botkin, MD is demonstrating the "Zorro" technique with his cape thrown over his shoulder as Troy Geyman looks far head for any trouble coming from over the horizon. Robert Yost, MD who works in the emergency department trusts Dr. Reinhardt to steer them safely to the Fair. He prefers not to treat the whole team in the emergency room at one time. Jennifer Eichstadt, PA does everything she can to stay put on the rear of the horse.

Dr. Newhouse is helping with Dr. Ernie Lucero's patients at Boundary Community Clinics while a search for a full-time primary care physician is in progress. Dr. Newhouse also is an emergency department physician at the hospital. Michael Snyder practices at Boundary Community Clinics along with physician assistant, Amanda Horricks (not pictured.) Dr. Botkin is a hospital-based physician and the Medical Director of Boundary Community Hospital's Extended Care Facility. Dr. Reinhardt is a hospital- based physician and Dr. Yost works in the emergency room. Dr. Geyman has his own private practice, Bonners Ferry Family Medicine, where Jennifer Eickstadt works as his physician assistant. Dr. Geyman, as well as all the other physicians, is part of the hospital Medical Staff. All Medical Staff members have admitting privileges at the hospital. Admitting privileges is as it sounds, they can admit their patients to the hospital when necessary.

Stu Willis, MD, Medical Director of the emergency room and the hospitals' Radiology Director, Michael Melendez, MD regrettably missed this year's photo because they were out of town. Upon hearing that they couldn't make it, the horse heaved a sigh of relief.

Boundary Community Hospital will have a booth at the County Fair, Wednesday, August 14 thru Saturday, August 17. Be sure to stop by and say hello!
Questions or comments about this article? Click here to e-mail!