Rockey Burkholder recovering after seizure
August 19, 2013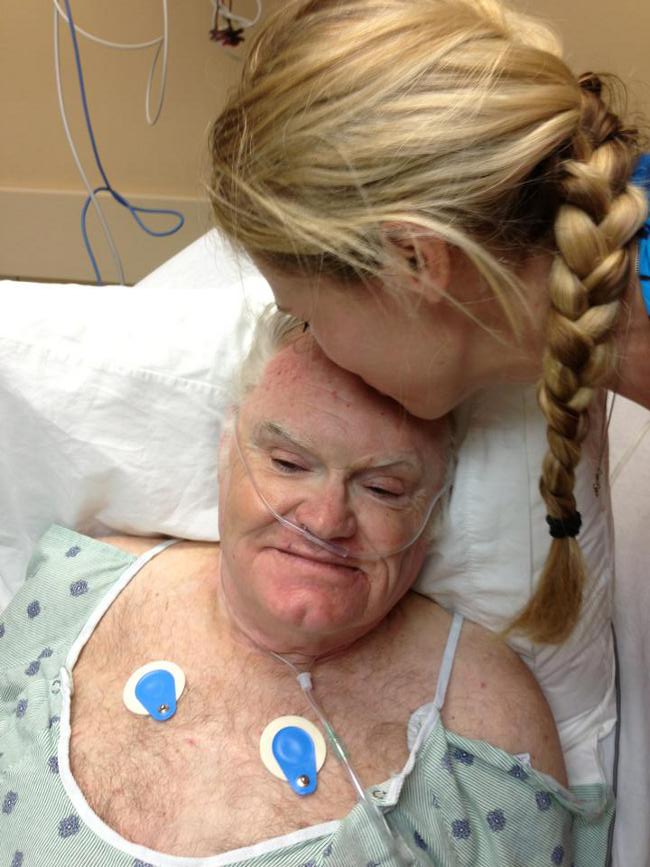 Even after he called her father "Blowfish," niece Mikkel Bekker gives a comforting kiss to uncle Rockey Burkholder, recovering at KMC after suffering a near fatal seizure.
A family outing to Lake Pend Oreille over the weekend turned frightful when Bonners Ferry icon Rockey Burkholder suffered a seizure and collapsed, lost his pulse and stopped breathing.

Rockey's brother-in-law, veterinarian Dr. Marty Becker, and nephew, Lex Becker, immediately initiated CPR and were able to restore his pulse and breathing, and a Canadian EMT, also vacationing in the area, jumped off his boat to help, as Rockey's distraught mother, Valdie, 88, looked on fearfully, saying, "God is good."

Rockey was LifeFlighted to Kootenai Medical Center, Coeur d'Alene, the rest of the family driving.

When Marty anxiously entered Rockey's room, not only was Rockey looking much better, he was almost chipper.

"Your hair looks like one of those cartoon seagulls on TV!" Rocky chided Marty. "And you need to go to Weight Watchers, Blowfish!"

Rockey was admitted and doctors are performing a series of tests in an attempt to determine the cause of the seizure. He is in room 305 at KMC, and the family welcomes the community's support and prayers.

He can be reached at (208) 666-3040.

"We ask for your continued prayers," said Rockey's sister, Teresa Becker, in a post on Facebook. "We ask for your continued prayers for Rockey and our beloved Valdie, who's really been shaken by this. This is a magical, blessed community, and it's too soon to lose the town crier and mascot, the one who compliments women and insults men, our special Rockey!"
Questions or comments about this article? Click here to e-mail!