Lyme disease is local
October 21, 2013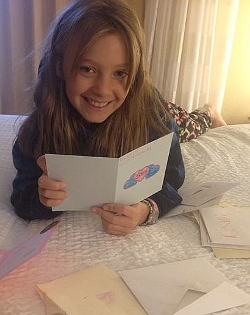 It's been a trying several weeks for a Bonners Ferry family whose young daughter is undergoing treatment for the debilitating effects of Lyme Disease, but their abiding faith, the small steps of progress and the love and support of a community appear to be contributing just what the doctor ordered.

And now, every sportsman and hunter everywhere in the world can spend a little, help an true outdoor family, and stand to win the opportunity to enjoy the best of all the outdoor experiences available that Boundary County, Idaho, has to offer, though details are sketchy yet.

"I'll do anything I can to help this family," Gary Stueve, owner of 3 Hearts Outfitters, said.

His motivation isn't only to help friends he holds dear, but to raise awareness of a potentially devastating tick-borne disease that can strike anyone, anywhere.

Most people think Lyme Disease, named after the town in Connecticut was identified in 1975, is caused by ticks, but that's not true. It's actually wrought by a bacteria that has first infected a tick.

Borrelia burgdorferi sensu stricto is the scientific name of that bacteria, the bitten person would, and it seems to only infect humans to whom it is introduced by a deer tick, and usually in northern climes.

Most anyone who wanders outdoors has met a tick. For years, they were seen simply as a nuisance ... an ugly critter akin to walking face-first into a spider web or finding a leech getting fat on you. Those fortunate find them while they're small.

Those less fortunate don't run across them until they're ugly and engorged; often, we never know they're there; they fill up and drop off without us ever knowing we were preyed upon.

Most often, we wouldn't know a deer tick from a wood tick; most of us don't even know they're arachnids; eight-legged critters in the same phylum as the spiders which haunt our dreams.

Jess Bremer didn't get too excited when she pulled a tick off her daughter, Kami, now 12. She and her husband, Scooter, grew up in the outdoors, where ticks are as common as mosquitos.

They didn't know why Kami was so ill; only that it was serious. Unremitting ever, terrible headaches. When the diagnosis revealed Lyme Disease, Kami was in serious condition, and the family took her to a clinic in Arizona that is the only place in the world that specializes in treatment for those affected.

The cost has been dear, a home all but abandoned, family businesses closed.

They dropped almost everything but love and faith.

"To all of you who are praying for Kami and for our family and writing letters," Jesse wrote September 17, "thank you!"

On October 1, "Kami didn't feel good, but she gave me a smile."

An awesome flow of cards, letters and best wishes, Jesse said, have bolstered Kami's spirits and wrought smiles.

Back to a lifelong family friend, Gary Stueve.

Without fanfare, he gave much of what he earned this season past to help his friends ... his clients didn't even know it.

Now, he's promising more.

He's raffling his services as a taxidermist to build the winner a beautiful head mount; tickets are $2 each or six for $10. All proceeds to the Bremer family. Tickets for that raffle are available now at the Naples General Store and at Far North Outfitters in Bonners Ferry.

That's a specialized prize though, he said. He's putting together a drawing for two for an all-day float trip down the Kootenai River, including gourmet lunch.

"I'm good at what I do, but I can't think of all I might do for Scooter, Jess or Kami." he said. "I'd also like to say hers is the third confirmed case ... it affects us all."

If you have an idea of how to help or spread word, you can call him at (208) 267-5858.
Questions or comments about this article? Click here to e-mail!