Lawrence 'Larry' E. Watts
September 27, 1925 ~ January 31, 2013
February 11, 2013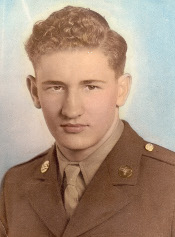 Lawrence 'Larry' E. Watts, 87, passed away January 31, 2013, at Kootenai Medical Center in Coeur d'Alene. Graveside service will be held at 11 a.m. Saturday, February 16, at Coeur d'Alene Memorial Gardens Cemetery, 7315 N. Government Way, Coeur d'Alene, with a reception to follow at Yates Funeral Home, 373 E. Hayden Avenue, Hayden, Idaho.

Larry was born September 27, 1925, to William Ernest and Ethel Ione (Mellor) Watts in Arimo, Idaho. He attended elementary school in Arimo and Blackfoot and high school in Coeur d'Alene after moving with his family at the age of sixteen. He enlisted in the military in December, 1943, serving in the Army Air Corp during World War II as a radio tech and gunner aboard B-29 bombers in the Pacific Theatre. Larry was a member of the Disabled American Veterans.

Larry married Ila Anice Toomey on November 25, 1945, in Coeur d'Alene. Upon his honorable discharge in 1947, Ila and Larry made their home in Wallace, Coeur d'Alene and Bonners Ferry, where they raised five children.

Larry was a meat cutter at Wallace Meats before retiring as the manager of the meat department for Safeway after 25 years. He then changed careers, becoming a truck driver and heavy equipment operator in the private sector and Louisiana Pacific. Since retirement, Larry and Ila made their home in Coeur d'Alene.

Larry spent his life enjoying his family along with the outdoors. Larry enjoyed golfing, fishing, hunting, gardening and, most of all, is remembered for his love of flying. His children and grandchildren have fond memories of spending time with him and his airplanes.

Larry was preceded in death by his parents; sister Helen; brothers Sheldon and Jim; his son, Rodney, and granddaughter, Courtney.

He is survived by Ila, his wife of 67 years, at their home in Coeur d'Alene; four children, Karen Watts of Coeur d'Alene, Debbie and husband Scott Nearing, Kingston, Idaho, Curt Watts of Federal Way, Washington, and Jana and husband David deVarona of Seattle; 11 grandchildren and nine great-grandchildren; sisters Shirley O'Fallon of Tacoma, Washington, Marilyn Watts of Kent, Washington, Lola Watts of Lakewood, Colorado; brothers Thomas 'Dean' (Carol) of Kellogg, Idaho, Warren (Ann) of Clarkston, Washington, David 'Lee' (Hilda) of Coeur d'Alene, and Bob (Mary) of Kent, Washington.

Memorial Contributions may be made to the Wounded Warrior Project, PO Box 758517, Topeka, KS 66675. www.woundedwarriorproject.org.

Yates Funeral Home, Coeur d'Alene is entrusted with the care of final arrangements. Please visit Larry's online memorial and sign his guestbook at www.yatesfuneralhomes.com.