David Russell 'Rusty' Elliston
September 8, 1950 - August 8, 2013
August 12, 2013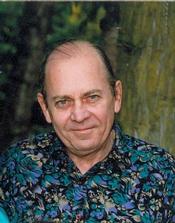 David Russell Elliston, 62, passed away on August 8, 2013, at his home near Moyie Springs, Idaho. A celebration of his life will be held at 3 p.m. Saturday, August 17, at the family home. Bring a candle and story to tell.

David Russell was known throughout his life as "Rusty." He was born to Bettye Jo and Billy Ray Elliston, both from Texas, on September 8, 1950, in Blackfoot, Idaho. He was the oldest of three children, followed by brother Mark and sister Cyndi.

Billy Ray was a steamfitter welder who worked all over the country, sometimes taking the family with him and sometimes leaving them on the farm as in Cedaredge, Colorado, where young Rusty learned to love the country and farm life.

While in high school Rusty won mathematics awards and was on the varsity tennis team, becoming number16 in the Southwestern United States.

He had a talent for the sciences and electronics, building his own radio transmitter from a small quartz crystal. Rusty was a member of the chess club and was seldom defeated.

At age 16 he met Linda Hardinger in church, whom he married three years later. He was so shy, she asked him out for their first date.

After high school, Russ got on the waiting list for the five-year steamfitter apprenticeship program. While waiting, he enrolled at the University of Arizona and majored in creative writing and literature.

For a country boy, he could read Beowolf in Old English, Don Quixoti in Spanish, and write poetry.

After three years at the U of A his opportunity came to join the apprenticeship, believing he would make more money at a good trade than from a college degree in literature.

He would follow his father and uncles' footsteps as a master craftsman, who was well respected for his work and leadership. He helped to build the original Alaska pipeline in the 70s, where he often volunteered for outside work at 70 degrees below zero for the solitude. One of his favorite memories was being asked why he stood outside at dawn everyday before work and responded, "I'm watching a baby day be born!"

It was his favorite Melanie song.

By 1981 Linda and Rusty had born four children: Christopher Blake, David Aaron, Merri Valancy and Alethea Lynn. In 1998 they would raise their granddaughter Luanna after Merri's death.

He and his young family moved to Moyie Springs in 1982. After 30 years of traveling work, he decided on a career change that would keep him closer to home.

Rusty's grandmother was to be a new resident at the Boundary County Extended Care facility. He became a certified nurses aid so he could help with her care.

He fell in love with his patients, became skilled in Alzheimer's care, and instructed other staff in validation therapy. Rusty always kept milk goats, especially for his kids with allergies.

He was an accomplished martial artist with a black belt in Kung Fu. The sermon he preached was gratitude.

In January of 2013, Rusty was diagnosed with stage four bladder cancer and he passed away August 8 at his home. He will be greatly missed, as many took advantage to "Google Rusty."

He seemed to know something about anything. For a quiet man who seldom left home he had many friends who sought him out for wisdom. Linda and Rusty were married 43 years.

He is survived by his mother, Bettye Jo, his sister Cyndi Picicci, brother Mark Elliston, children Chris, David, Leah Driver and their families, and Annie.

We look forward to being reunited again at the resurrection.