Frank Spalding
May 15, 1937 ~ October 24, 2013
October 28, 2013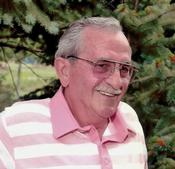 Lifelong Boundary county resident Frank Spalding, 76, passed away peacefully at home in Bonners Ferry on October 24, 2013, with his wife and daughters at his side.

Services will be held at 11 a.m. Friday, November 1, at Trinity Lutheran Church in Bonners Ferry, with a private family committal at Grandview Cemetery.

Frank was born in Bonners Ferry on May 15, 1937, to Henry Raymond and Anna Elizabeth (Lipp) Spalding. Frank attended grade school in Bonners Ferry and graduated from Bonners Ferry High School in 1955. He attended the University of Idaho from 1955 to 1957 and was in the Idaho National Guard from 1956 to 1977, he was honorably discharged as an E7 with several medals and ribbons. Frank was also a charter member of Bonners Ferry Eagles Aerie #3522.

Frank and Anna May met in 1953, it was apparent from the beginning that these two were destined to spend their lives together. They were married on March 2, 1958, and have three daughters, Jodie, Debbie and Heidi, yet it always felt like more with all the neighborhood kids who were at the house or playing in the "Spalding field."

Frank loved his family wholeheartedly and taught his daughters how to be loving, strong, independent women by his example of living his life with integrity and honesty.

As a young man, Frank worked in the family mill, Spalding Lumber Company. He and his brother Bob logged throughout Boundary County from 1962 to1973.

Frank, Bob and Cecil Holmes purchased Cook's Electric in 1973, renaming it SS&H, and in the late 70s, they opened South Hill Saw Service, were Frank worked until he retired in 2003.

Frank, Anna May and girls were among the original members of the Bonners Ferry Boat Club, spending many wonderful years at Smokey Acres where his legendary telling of the "Ponderay Paddler" around the campfire was a classic with the kids.

Frank will be remembered for his love of the woods, fishing, hunting, huckleberry picking, cribbage games, traveling, whether around the game refuge or his yearly trips to Alaska, and the thrill of a good discussion.

Frank was preceded in death by his parents, Henry and Anna Spalding, and brothers Virgil and Jim Spalding.

He is survived by his wife Anna May, daughters Jodie (Jeff) Neumayer, Debbie (Ron) Atwood and Heidi (Bobby) Invernon, grandchildren Aaron Neumayer, Rachel (Landon) Weichal, Ben Neumayer, Chase and Emily Invernon, great-grandchildren Avery and Elliot Weichal.

The family suggests instead of flowers, that donations be made to Bonner Community Hospice in memory of Frank.