Badgers win districts, 12 to state
February 17, 2013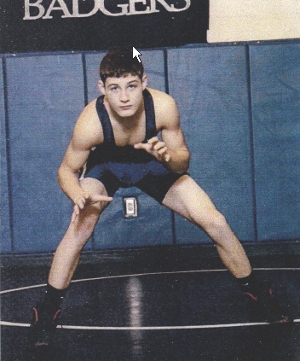 Badger senior Blaine Invernon

Bonners Ferry High School sent 18 wresters to fight in the Idaho District I-II Wrestling Tourney held this weekend in Lakeland; six took championships and led the Badgers to a 1.5-point win over Timberlake to claim the District title.

A dozen Badgers will travel to the state tournament, to be held in the Holt Arena on the Idaho State University campus, Pocatello, February 22-23.

Bonners Ferry earned 215.5 points to win, Timberlake 214, Priest River 172 and Kellogg 169.5.

One of them, senior Blaine Invernon, fighting at 138, has the chance to do something only one other Badger in school history, Adam Hall, has done; claim three Idaho State high school wrestling titles, having won his freshman and junior years.

He won the championship at districts by forfeit.

Also winning Badger championships were junior Anthony Skeen, 152, defeating Timberlake's Tyler Badertscher with a pin at 2:51; and junior Quinn Cummings, 160, who pinned Kellogg's Tucker Day at 2:35.

Badgers swept the upper weight divisions to claim the title, with senior Carmen Krichbaum. 195, pinning Gabe Bellah, Priest River, 35-seconds in; and senior William Gaspar repeating the feat at 220 with a 35-second pin over Priest River's Tristin Hudson. Two Badgers, senior Morris McAllister and junior Jon Gaspar fought for the 285 title; McAllister came out on top with a pin at six minutes.

Also making it to the championship round for the Badgers was senior Aaron Smith, 98, who fell to Timberlake's Ryan Starr in a 7-5 decision.

In the consolation round, freshman Jaeger Schnuerle, 113, pinned Priest River's Brad Schaper at 1:39; sophomore Chase Erickson,120, pinned Addison Janshen, Timberlake, at 2:27; junior Parker Davis, 145, beat Timberlake's Tristan Roth, 7-3; and senior Josh Miller, 152, beat Lane Stevens, Timberlake, 7-5.

Falling out in the consolation round were senior Tyson Boorman, 138, who fell by pin to Bradley Erickson, Timberlake, at 4:09; and Travis Beck, 170, who fell to Kellogg's Davin Wadsworth by pin at 2:56.

Representing the Bonners Ferry Badgers at state will be: 98 Aaron Smith; 113 Jaeger Schnuerle; 120 Chase Erickson; 138 Blaine Invernon; 145 Parker Davis; 152 Anthony Skeen and Josh Miller; 160 Quinn Cummings; 195 Carman Krichbaum; 220 William Gaspar; 285 Morris McAllister and Jonathan Gaspar.
Questions or comments about this letter? Click here to e-mail!