Camp to give kids a glimpse at volcanoes
February 21, 2013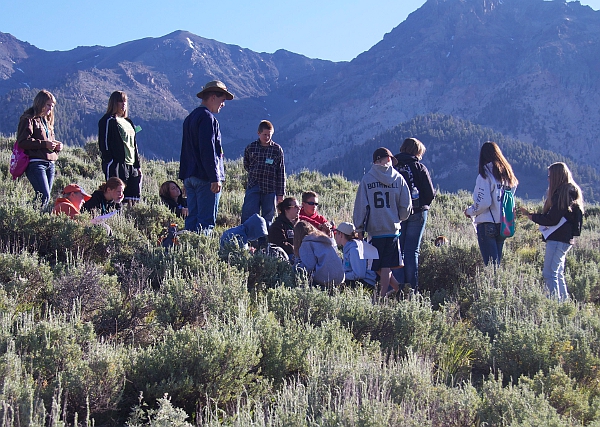 The University of Idaho's 2013 Natural Resources camp for youth 12-14 years old will offer something new: a look at Idaho's volcanology.

Campers will learn about Craters of the Moon National Monument, Snake River Plain geology, volcanoes and other close to hand examples of Idaho's fiery past. The addition expands the camp's mission to help youths explore Idaho's natural resources including wildlife, rangeland, forests, water and soil.

The June 24-29 camp near scenic Sun Valley is sponsored by University of Idaho Extension, Idaho Association of Soil Conservation Districts and the JR Simplot Co.

The campers will also repeat a popular feature added last year, immersing themselves in an example of an Idaho geothermal resource with a fieldtrip to Easley Hot Springs for some swimming and end-of-camp relaxation.

"It's a little reward for the kids after spending a week with a lot of activities and learning," said Amber Moore, camp director. She is a soil scientist for University of Idaho Extension at Kimberly.

Natural Resources Camp can provide up to 90 youths with an up-close-and-personal look at Idaho and science that has many campers coming back for more. About half of the campers do return and some practice future leadership skills by serving as cabin leaders.

The camp relies on state and federal agencies for financial and other support. The Butte Soil and Water Conservation District based at Arco boasts one of the camp's most dedicated recruiters, Frances Perkes, its administrative assistant.

In 28 years, Perkes's efforts have helped steer 158 young people to the camp from Butte County and southern Custer County near Mackay.

"One of the most important things that has helped us is the schools have always been very welcoming and have allowed us to meet with classes to talk about the camp," she said. Businesses help underwrite scholarships that help pay campers' registrations.

One reason for her support for the camp was her son's positive experience there the first year she became involved. Now retired after 22 years in the U.S. Marine Corps, Brian Perkes is studying wildlife biology at the University of Idaho.

Other campers developed interests in natural resources that led them to careers, too.

"It's wonderful to hear what the kids talk about and how excited they are when they get back," Frances Perkes said, adding many who go to camp want to go back the next year.

"We're bringing in a lot more repeat campers," Moore said. One reason is the cabin leader program that trains campers the first year to manage their cabins the next year.

Applications for the 2013 camp are available through University of Idaho Extension and through Soil Conservation District offices across the state. Information is available at http://www.extension.uidaho.edu/nrc.

Registration is $235 by May 21 and $255 after that. Scholarship information is available by calling Soil Conservation District offices. More information is available by contacting Megan Satterwhite, camp coordinator, at (208) 736-3634 or msatterwhite@uidaho.edu.

Other agencies that cooperate in running the camp include USDA Natural Resources Conservation Service, Idaho Department of Fish and Game, Idaho Department of Lands, U.S. Fish and Wildlife Service, U.S. Bureau of Land Management and USDA Forest Service.
Questions or comments about this letter? Click here to e-mail!